Private cookery lessons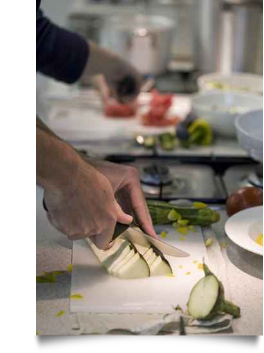 For up to four people, for a minimum of three hours, prices start at £100 for one person, plus the cost of ingredients. Ideal for everyone from the novice cook to those wishing to improve their kitchen skills for a special occasion, cookery lessons are also a novel gift for someone who loves food and wants to become a better cook.
How it works Decide what you want to be taught, then phone or email Steve to discuss your plans. If you have never cooked at all, Steve can show you the most basic techniques such as making biscuits or cakes, or understanding how to cook different vegetables and cuts of meat, so that you have the confidence to start cooking for yourself. 

A private cookery lesson is also a great way to hone basic skills such as boning fish, jointing chickens, or cooking red meat; or you may want to learn how to make fresh pasta, or the perfect risotto. You could also plan your cookery lesson for an afternoon when you have guests arriving in the evening, so you really can say that you cooked the meal yourself!
Happy Birthday!
Treat a foodie friend to a one to one cookery lesson in their own home. Other people have enjoyed learning how to cook the perfect Beef Wellington, finding tasty alternatives for a low carb diet, and mastering the art of fish preparation from filleting sea bass to frying squid. Vouchers start at £100 for a three hour lesson for one person. For more information, contact Steve.
Call us on 020 8549 7514 or 07814 999798 or email us